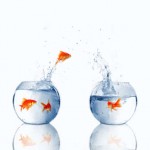 I presented at the Pearson VUE Testing Centre Managers Conference and thoroughly enjoyed myself. The audience was full of comments and questions which showed me a genuine level of engagement.
I talked a lot about how the technology in our midst is shaping how we live and work, with a special emphasis on some of the trends that will impact how we learn in the future – on the go, in modular form and both alone and in social groups. The cool thing with technology that must be embraced is that there is never really a good time to start using it – to open a Twitter account, launch a Facebook page or start a YouTube channel – but it is so easy to have a go, to start and update and change as we progress and evolve. Technology facilitates trying things and learning along the way. Our mantra at Pearson is 'Always Learning' and technology in this respect encourages us to use these tools and platforms to try stuff and be comfortable with making a mistake, because you can adjust, correct and continue on your pathway to greatness.
The thing that pleased me the most about the conference is when a lady stood up at the end of my session and explained that she works part-time, whilst also creating music for meditation. She described how she has learned to create CDs of her music and put them onto CD Baby and has since made her first sale on Amazon. This is the beauty of technology.