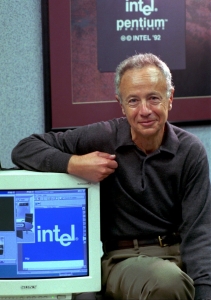 Here is a great story from one of pioneers of the IT industry, Andy Grove, former Chairman and CEO of Intel. It comes from his book Only the Paranoid Survive and is well worth retelling.
In a discussion with then Chief Executive Gordon Moore, he asked what would happen if the board kicked them out and started anew. They agreed that a new CEO would no doubt leave the past behind and detach them from their memories.
So Grove and Moore decided there and then to do that themselves. They left the business of chips behind, moving into microprocessors and thereby set the stage for the next generation of the Intel business.
It was, and remains, a lesson in management: leave the past behind, don't let a single line of business define you and be the disruptor, not the disrupted.