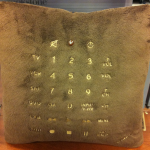 I was closely watching the exchange in the US over the debt issues and President Obama supported the Gang of Six plan to reduce trillions of debt over 10 years. In a news debate on TV, the panelists claimed it was led by somebody with whom the President had a close relationship over the years. No surprise.
Now apply this to technology and to every walk of life. Despite the new platforms and tools now at our disposal, doesn't business still get done when people make a connection with each other and find a situation that benefits both parties? Hasn't it always been the case, and will it not always be that way? I think so.
I do enjoy the US – such good service and huge choice of everything you care to buy. Little wonder that so much innovation stems from there. It seems to have this knack of combining ideas and people to create some of the most innovative and forward thinking applications of technology.
Look at the image above. In a Brookstone store, I found this cushion; it was a remote control embedded within the softest material. Tacky in some respects, ingenious in others, but it sells! The US has such a willingness to try things, to embrace failure as a step in the right direction; as one leading author claimed, "By failing in a project or task, that is one less mistake that can't happen next time."
I enjoyed being a part of the Service 800 event where the theme was excelling in customer service. I had a chance to present to the group and engaged in some interesting conversations with individuals from 3M, GE Healthcare, Lexmark, Siemens and others, as well as some quite brilliant personalities from CompuCom. Some of these great people were kind enough to share a testimonial for me (see the tab above). Europe can benefit so much by watching and learning from these service experts.