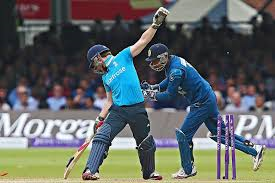 I am technology's biggest fan, but this weekend was a reminder about perspective. I went to Lords to watch the one-day international between England and Sri Lanka and met some great new people from Blenheim Chalcot, Hewlett Packard, Aetna, IAB and Disney to name a few. Such varied conversations, different walks of life but all good people.
It reminded me that whilst racking-up contacts on social spaces can be important and networking online does work, nothing comes even close to shaking hands with real people and getting to know them. It is genuine and lays foundations for a stronger, long-term bond.
My take-away from the cricket is this – for every 3 connections you make online, pick up the phone and call an important contact or old acquaintance and ask how they are; and keep some loose change in your pocket and invite somebody different in your industry to a tea/coffee twice a month. It outsmarts technology all day long.
My Dad used to take me to the Oval to watch Surrey on Sunday afternoons and some things don't change. The spectators had a reminder about good old-fashioned determination and resilience as Jos Buttler worked relentlessly to make up the runs. What a performance. That is one of life's lessons that will never be affected by technology.