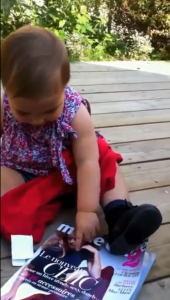 We are losing patience with technology and it is putting pressure on companies to provide services at record speeds, yet it seems as though it is never enough.
I always felt one of the greatest wonders of technological change was how organisations put services into the hands of the customer and we marvelled at this as great service – for example, checking ourselves in for a flight and printing our own boarding passes. They made us do the work and we thanked them for it.
I use a 10-second video to make my case of a young girl less than a year old who is given a copy of a magazine to keep her occupied. Within moments she is swiping the magazine because she thinks it operates like an iPad and when the magazine shows no sign of responding, the girl is crawling away having lost interest.
Today, the tables are turning on technology and we are becoming ever more unsatisfied – I thought technology was supposed to be the next utility but when Wifi was down for a while at the house this weekend it caused much consternation and one of kids declared they "couldn't function." When networks are down, we criticise the technology, when a store runs out of a product, we complain that they haven't mastered big data and when online banking is not available we ask why they couldn't update their systems when we are asleep.
I have seen "internet", "wifi" and "phone battery" all added to Maslow's Hierarchy of Needs and it isn't always in jest. It is one thing technology progressing leaps and bounds to give us new ways of working and shopping and learning – but can it match our ever-increasing standards?