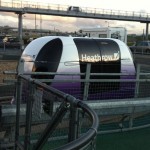 In the spirit of the European Championships, my headline represents a football scoreline. Yes, technology has edged ahead in the customer service stakes. Here are two examples.
As my picture shows, the Heathrow car park-to-terminal electric pod is in full swing. It is wonderful. Park your car, go to pod A or B and follow the simplest of instructions to transport yourself to the terminal in exactly 5 minutes. No waiting for buses or queues and every detail has been accounted for in the interaction with the passenger.
On the return journey from my trip, at the terminal in Dubai in the middle of the night, I approached a very quiet Emirates check-in area with no other people around. I checked myself in, printed my boarding card then my luggage tag, weighed my bag, saw it shuffle back and forth as its weight was verified, and finally watched it disappear down the conveyor belt. I marvelled at how easy this was. In fact, I came home and shared how excellent the customer service experience was and yet there was not a human being in sight. I even created a slide for my presentation around this story. This is technology at its best and the place we are heading.
Was I pleased with my experiences because there were no other people around? I don't think so. I was satisfied because they were easy, I didn't have to wait and there was no negotiation involved. In a world where there is too much to absorb in too little time, this is what we look for in our daily interactions. What does this mean for us humans? We really have to find other ways to add value.