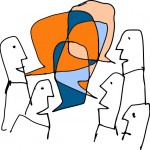 Social media has seriously impacted traditional marketing, but is marketing dead, as claims Kevin Roberts, CEO of Saatchi & Saatchi Worldwide and one of the smartest thinkers around? He said recently:
"The role of marketing has changed. There is nothing new anymore. If marketers are just hearing about something going on then it is already old in today's world. Speed and velocity is everything today. Marketing's job is to create movement and inspire people to join you. Everyone wants a conversation. They want inspiration. Inspire people with your website. Don't just interrupt, but interact. Asking about Return on Investment is the wrong question today. You should be asking about Return on Involvement."
Thought-provoking indeed. Globally recognised universities such as Oxford, Cambridge and Massachusetts Institute of Technology are putting entire courses online for free. Why? Because you can't earn a degree on YouTube, and if that's where today's students are hanging out, it becomes free marketing. The best students have a choice where they study and platforms like YouTube are how to reach them.
Amy Cosper, Editor of the excellent US-based magazine Entrepreneur, talks about customers as active participants in companies, brands and collaboration.
Last word to Kevin Roberts: "The big idea is dead. There are no more big ideas. Creative leaders should go for getting lots and lots of small ideas out there. Stop beating yourself up searching for the one big idea. Get lots of ideas out there and then let the people you interact with feed those ideas and they will make it big."
The social tools and technologies allow us to have a conversation with customers old and new, invite opinions and evolve our business. That is how marketing has changed.