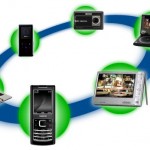 The Consumer Electronics Show is the annual gadget-fest held in Las Vegas and it is taking place right now. I thought it apt to share what I believe to be the 3 key technology trends of the year. Admittedly, I could elaborate on each of these for a blog post of their own, and some may well evolve into something different, but my top 3 are the technology-related trends I believe will end up impacting our day to day lives, regardless of our industry:
1. MOBILE will be far bigger than we think.  Mobile internet devices (especially smartphones) outsell all computing devices and certainly PCs, and mobility will continue to change the dynamic of how we operate. By being better connected, it means we don't have to be in one place, and this will influence remote working, a different type of communication and the restructuring of the traiditional office setup.
2.  This leads nicely to NFC, or NEAR-FIELD COMMUNICATION.  NFC is a short-range wireless technology that makes use of interacting electromagnetic radio fields instead of the typical direct radio transmissions used by technologies such as Bluetooth. It is meant for applications where a physical touch, or close to it, is required. NFC is planned for use in mobile phones for, among other things, payment, in conjunction with an electronic wallet. Mobile payments will cause a rethink of cash, travel and shopping. For those of us in the UK, think of an Oyster card embedded within your phone.
3. The CROWD. Sites such as Airbnb and CouchSurfing are leading the way in peer-to-peer networks, and as Rachel Botsman said in my favourite book of last year "What's Mine is YOurs", creative companies are using technology to redefine ownership. Why buy when we can rent, borrow and share amongst our community. Experience is far more important than ownership; for example, we don't necessarily want to collect DVDs, we just want the experience of watching the movie, and usually, just the once. Cars is another area that will be seriously affected, with companies such as Whipcar and Zipcar helping reduce car ownership around the world. Technology is facilitating this change.
They are my top three, and no doubt many other trends will spin-off from these. Keep an eye out for news from CES and articles in all the newspapers and websites, all the main gadgets and trends will be featured there.