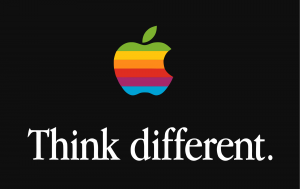 'Think Different' was created in 1997 to promote Apple, and what a company and set of products they turned out to be. The statement itself is never more relevant than today.
Because of the pace that everybody works, always connected, never stopping for breath, technology has allowed some companies to become lazy, their staff converted to order processors and order takers. But that doesn't last forever.
How about using technology to buy time in our schedule, to give us 10% of our week back to think differently, strategically and long-term? Forrester tell us that 95% of data within organisations remains untapped and 40% of companies don't target specific customer or visitor segments. How about using technology to create market segments of one and treating customers (and learners) as individuals with unique needs.
Segmentation is a key step toward meeting customers' demands for more relevant experiences, and by 2018, Gartner predicts that organisations that excel in personalisation will outsell those that don't by 20%. It's the treadmill scenario – in this rapidly changing world, if you standstill, you go backwards.