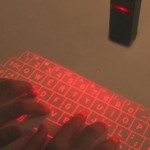 We read stories of collaboration, social learning and communications evolving but how about the products that we use to facilitate these activities? They are fading into the background and before long, I can see (or not, as the case may be) a time when the device becomes invisible.
We saw the introduction of the infrared keyboard a year or so ago and I read forward-looking articles where the tables we dine in at restaurants will be embedded with the technology that allows you to order our bill, pay by credit card, send a take-away sample food box to a friend, all on the same interactive surface.
What else? I see phones disappearing into our clothing, communication devices that are integrated into the fabric of our coats and jackets, information beamed into our glasses and contact lenses, screens laid into walls and wallpaper which only come to the fore when they are needed.
The key is mobility, and reducing the weight of our bags and satchels as we race across our cities to the next meeting. Why carry laptop computers when we can access pop-up screens in cafes, beam the keyboard onto the coffee table and a holographic screen in front of us.
Before long, we will be online using the interior of our car windscreens (only when the engine is switched off) or via shopping mall display points, where combined with near-field communications (NFC) we will have the ability to search for a specific item of clothing, book a restaurant for lunch, a taxi to get home after a movie, and much more. The technology will be embedded into our every day existence, and there will be no need for separate devices.
The real beauty for me is how this facilitates learning – where we don't have to go off for days at a time to understand an entire subject area if we only truly need a short 20-minute piece to help us with the task at hand. The technology will help up digest smaller, bite-sized chunks of learning, specific to a role or customer requirement – one tiny piece at a time, wherever we happen to be.