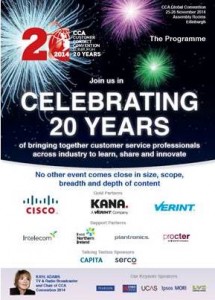 Last week I presented at the CCA Annual Conference at the Edinburgh Assembly Rooms. An excellent event. Despite all the noise around technology – big data, wearables, the internet of things – our audience created more conversation around my stories and emphasis on talent. I liked that. This was a crowd of deep thinkers.
The greatest mix is that of old and new. Whilst I implore companies to give young talent a chance and to watch how the net generation will flourish if we attract and engage them on their terms (normally with technology in mind), I equally underlined the value of the older worker. The more experienced employee has a lot to offer, they are committed, they know the ropes and their experience is telling; and they are staying in post for longer, so the younger generations need to be better skilled to displace them.
Here is a summary of a story I told last week where two generations didn't quite gel, or understand each other: a young lady beat off other applicants to make it to the final stage of interview and meet the CEO of the hiring company. She arrived on time and was immaculately presented. All good so far.
She was invited into the office of the CEO, a gentleman with years of success on his sleeve and decades her senior. The interview was progressing well, as planned, and then her phone start buzzing in her bag. The young lady pulled out the device mid-interview and started texting in reply, oblivious to the sudden stop in proceedings. This is what she was used to doing. The CEO waiting patiently for her to stop and then ended the interview, thanked her for her time, and saw her to the door. The interview process was about to start again, for this lady did not get the job.
I can see that the net generation does things in its own way and communicates differently, but there are certain rules of etiquette, respect and simple good manners that stand the test of time. I hope those things will never change.