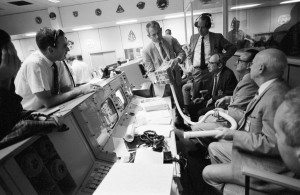 As someone with an interest in space, I was transfixed as the team in Houston pulled together to generate ideas when Apollo 13 ran into trouble, particularly how they brainstormed to fix the carbon dioxide removal system.
Part of Mission Control's method to find a solution was to discover what the spare parts were and not just recycle the same old ingredients. They chose not to sit around in isolation but get more parts on the table to give them options. Eventually they found the answer and saved the crew.
Their approach lends itself nicely to the tech world we are immersed in today. How do we get lots of parts – ideas, even people – to the table? Proctor & Gamble figure that for every senior scientist it employs, there are two hundred others working somewhere else in the world, just as good. Using technology platforms such as Innocentive and Kaggle, it can reach those minds and get access to some brilliant ideas to keep it at the leading edge of its industry.
However we connect, network, generate ideas or discover new products, we must do the same.