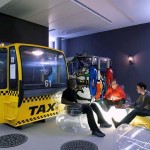 I created some new slides this week for a series of presentations coming up at industry events and partner/dealer conferences. One slide that is firmly in my deck asks whether we should be putting customers first. Sharp intake of breath I sense!
My view is that we should be putting customers second, still a silver medal position. My reasoning is simple. If we take care of our people first, they will do a fantastic job of looking after our customers.
Furthermore, if we allow our staff a little time of their own to be creative and encourage them to do a few crazy things from time to time, our organisations will benefit. We will retain our best talent and word will spread that we are a great place to work. The best talent will start to gravitate towards us.
We have all seen the pictures of the Google offices in Switzerland. How many people do you think walk out of Google's employ on a regular basis and how long is the queue around the block of people wanting to work for Google?
If we take care of our people first, and provide them the tools, the technology and the environment to be imaginative in the fast-changing world we operate in, they will take care of our business, generate new ideas for our future and do a great job exceeding expectations with our customers.