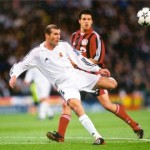 As a young man growing up, I followed many sports stars – Kevin Keegan, Kenny Dalgish, Michael Jordan and Scottie Pippen, but my sporting inspiration was Zinedine Zidane. He was so naturally gifted and so intelligent with the ball. This week, I found inspiration not with footballers, but at youngsters no more than 18 years old who won the apprentice of the year awards at the Zenos annual conference, where I also had the pleasure of presenting my view on the 'Evolution of IT, Jobs and Learning'.
Zenos is a quite amazing company. 400 staff, mostly young and very dynamic, but what really stands out is the camaraderie, the culture and the ethos that drives this team of people led by Jason Moss and his management team. They live to help the next generation acquire the skills that will set them on the road to a new chapter in their lives, a career IT.
I selected Ashleigh Carr as the Zenos-CompTIA apprentice of the year.  He is 18 years-old. He has Crohn's disease. Our CompTIA A+ certification helped him find himself and a job at the Royal Bank of Scotland in IT Support. Most of 400+ audience were in tears as I presented the award to him (and we gave Ashleigh a 3D LED TV as a cool gift to go along with his award). We must never forget, this is why we exist, helping Ashleigh and others like him to get a job and make progress in the world of technology.
I will always love football, basketball and most other sports, and I will always enjoy watching the best talent grace our stadia. But this week has taught me that our inspiration comes from these youngsters, who overcome adversity to achieve results and aim high, and get the jobs they apply for. If that is our future, there is hope. Presenting at Zenos this week, and handing out this award, was my finest hour at CompTIA. Thank you Jason, Claire, Nicky, Richard and all the fantastic Zenos team.