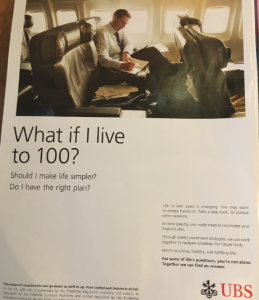 The back page of the current Fortune magazine carried this advert (right) for UBS and it is worth underlining the impact of living for longer.
If we live to 100 in future, it is more than just savings plans and investments we will need to worry about. Very few will be able to retire and live off their savings for half a century, so how will we cope? We will most likely have a career that spans 60-years and have to learn new skills as generations change; furthermore cycles and trends of work mean where we start will in no way resemble how we finish working.
So as our knowledge and skills become redundant, we will have to update just to keep up. Education needs to start thinking today how to prepare future generations for such evolution – will a once in a lifetime education be the correct solution, surely not? The traditional college/university model was invented when our education would get you your first and last job, but our kids will hop from project to project as they see fit – choosing who they work for.
Because we live in a very dynamic society where people have lots of careers, where technology moves faster than we can keep up and whatever we learn expires very quickly, we need to ask if we are no longer faithful to one company or even one profession, why should we be faithful to one type of education at one institution, and at only one point in our lives?