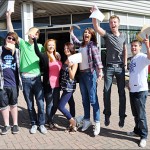 Pupils across the UK have received their A-level results and are wondering what to do next. Like every year, we can expect that nowhere near enough of these talented individuals will pursue a career in IT.
The reason for this is surely not that IT has little to offer, or that it is too specialist, or even that it is boring, for it is none of these things. But this is how a lot of young people see it. Until we start doing something to change this perception, we will struggle to attract the required talent.
IT flies our planes, broadcasts our football matches, and records and edits our music. IT systems monitor the effects of global warming, fight terrorism, and ensure hospitals function. New innovations like the iPad and Facebook have made billions and changed the world.
None of these are dull professions and they are all areas which interest young people. They are more interesting than most office jobs, and a heck of a lot more interesting than bar work, which seems to be the fate of all too many talented young people.
But as an industry, we are seen by many 16-18 year olds as sitting in a basement with a computer. We need to change this perception and get these people, who are currently making big career decisions, excited about IT. We need to start focusing on all the exciting and varied opportunities that IT offers, and to communicate this to young people through education, careers talks and the media.