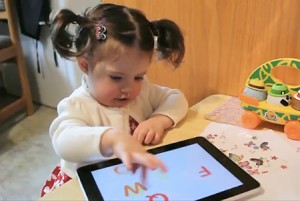 I have used a video of this girl using an iPad in some of my presentations, which underlines how adept this generation is at using technology, plus I have dismissed before words that say kids today cannot focus.
On my holiday in the US this summer, I read a lot of good stuff and came across two stories along the same lines involving different youngsters, so I thought it well worth a mention. One in particular was described by Will.i.am. He used to graffiti the classroom, not because he was a vandal, but because he wanted others to see his art – to 'know' him. Doctors wanted to give him Ritalin (to treat attention deficit disorder – ADD) and his teacher told his mother not to let them give it to her son.
Instead he suggested that his mother encourage his creativity, that he will work out a way to work with it. How true that was.
A similar story applied to the principal ballerina at the Royal Ballet, who couldn't sit still for her love of music. Kids do have a laser focus, just not on the often-outdated stuff we give them. We need to learn to work with them on their terms, after all they are our workforce and our customer of tomorrow.