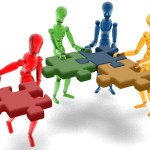 CompTIA UK hosted our UK Channel Community last Thursday at the ICC in Birmingham and most of us agreed it was the best meeting to date.
A community operates differently. Whilst sometimes tempted to dictate the run of play, it was more productive and more satisfying to see members of the community step up and take the lead at different times during the session, each adding their own nugget of value to the collective. Our chair, IT consultant Richard Tubb, is well respected by all, and his effortless leadership ensured everybody in the room was included, particularly with the '30-second Best Practice' session, now an institution at these meetings. Adam Harris launched the legal resource centre and shared why we localised it for the benefit of our UK members, and vice-chair Lee Evans, owner of Vital Technology Group, updated the delegates on the Quality Mark we are working on.
It was also pleasing to see some new faces take the stage, such Les Billing from HMD Electronics, who led the update on the Vendor Resources Portal and my favourite session of the day, 'Connecting with Customers' presented by Gareth Brown, MD of Sytec. Gareth told us that simplicity is the key for customers; that we often talk in our own 'IT language' which customers don't understand, and how great it was to see his company's mantra – "We Fix IT" – get a great response from the group. This was my biggest take-away from the day: all of us must "de-jargonise" and "de-fluff" our services when we market, and talk to, customers. Great phrases!
The most fulfilling piece of all however, was seeing the members come together, engage in conversation, laugh out loud, talk about the markets, economy and trends, even about their cars, but most importantly build connections and enhance the community.
A picture is worth a thousand words, and sometimes the beauty is just to step back from the conversation and watch the magic happen.