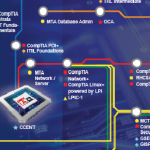 The problem with IT's image is not just that the opportunities aren't well represented, but also that routes in are poorly understood. People assume they need an IT degree, then hear that lots of IT graduates (amongst other graduates) are struggling to find jobs.
I believe the focus on academia is misplaced for IT. IT degrees are good for some but are not the only way. For many organisations, hands on experience gained through IT trainers (eg QA, Just IT, Firebrand, Zenos) and backed by industry certifications count for much more.
CompTIA designs certifications with industry to identify the skills they need. Companies such as Microsoft, Cisco, Oracle, etc, take much the same approach. Students we speak to who take certifications, such as CompTIA A+ followed by their vendor certification of choice, consistently land rewarding jobs.
When discussing IT careers – in IT lessons, careers advice sessions or the media – we should be clearer about how students can get in, and shift the focus away from IT degrees as the de facto route. This may work to our advantage – as education costs soar, a professional career with a recognised industry certification track may become very attractive.
Furthermore, we'd like to see this real-world focused approach throughout IT education, particularly GCSEs and beyond. We need to teach IT in a practical, exciting way which relates to how it is used in real life, as the aforementioned IT trainers do with great success. This will not only inspire more young people into IT and increase understanding of how to get there, it will also ensure they have the skills to get the jobs they want.
CompTIA has just completed a guide which hopes to help young people understand the many exciting options that a career in IT offers and can be viewed here. This blog post first appeared in Computer Weekly magazine.