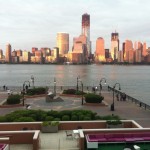 I spent most of this week in the Big Apple at a Pearson event called Forum.
Forum brings together 120 people from across the company to brainstorm, network and focus on a specific theme to help drive continuous improvement throughout the company. This year's theme was 'Culture.'
It was a great experience, especially listening to Marjorie Scardino enthral us with her stories at dinner, meeting the Management Team and working with people I have never met before. We were assigned to 'Home Group' number 7. We called our group 'I'll Have Another.' John, Allison, Ramesh, Natalie, Ken, Adrienne and myself. We hit it off immediately. I don't know why and I am not sure how. But it clicked right away and it worked. On an evening assignment we created one of the best videos, as highlighted by our faciliators the next morning. Seven people in a group spanning a range of countries and continents – and yet it all came together very quickly. What does it mean? It tells me that when the chemistry is right, and when people get on, amazing things happen in the workplace. I thank the team for a great 3 days. We laughed so much.
I also learned that culture is not down to the CEO or management team to establish and cascade down to us. Culture is us. It is up to us as a team to find the connections, have the right attitude, communicate, share and motivate others, to feel and to be the culture. It was an inspirational week, especially going for runs along the Jersey shore facing Manhattan and waking up every day to this view. Thanks New York, thanks Pearson, thanks Team 7.