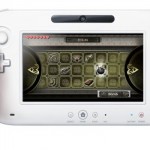 Now some may interpret the headline as nerves getting the better of a kid on his first day at school! But this is something entirely different.
The Financial Times was recently quoted as saying more than 86m units of the Wii have been shipped, so why aren't we using these consoles in the classroom? The president of Nintendo is keen for the new Wii U "to fundamentally change the structure of entertainment." Pictured to the right, the Wii U controller has a touchscreen as well as the traditional controls which can create different interactions between players. Its ability to help retain focus is another interesting point.
Because kids are seen to have a multitude of applications on the go at once – Messenger, music/radio, Facebook, school homework and more – we think they can't focus. Nonsense I say. These kids have a laser focus, just not with the boring stuff their schools feed them. I think the time has come to fully integrate these consoles into the learning process and just watch the results. The University of Wolverhampton in the Midlands of the UK has been doing this for a couple of years with tremendous outcomes of inclusion and benefits to all parties.
Which brings me on to another timely area of debate, and that is graduation time. With so many students happy and hopeful their studies are over and looking forward to the wide world of work, have we prepared them well? Students are raised in an environment that demands one set of navigational skills and then cast out into a different world requiring a totally different skill set, left alone of course to work this out for themselves! Today's graduates are also told to find their passion and purse their dreams. The implication is that they should find themselves first and then go off and live it, but as we know, very few people at graduate age can take an inward journey and instead need to encounter the experience to truly define the path they ultimately take – and these days, it isn't just one path, but a series of very different walkways and careers on the way to wisdom.
Did I really plan a career in the IT arena with a 'major' in certification – no chance. Do I love the experience today, no question. Some call it the cart before the horse.