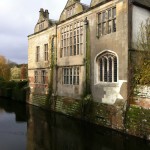 I presented at the Kyocera event today at the stunning Coombe Abbey Hotel and Conference Centre today (see pic to the right). I always enjoy partnering with Kyocera because of their commitment to the next generation of learners and workers, and Pearson support the apprenticeship they are spearheading with other manufacturers of printers and multifunction devices in their sector.
I shared my thoughts on new marketing, especially around social media, and I emphasised that social is only 1% posting stuff. 99% is about listening to your customers and audience and responding with solutions that they are ready to buy into. If you look at what happened to Netflix when they tried to change their pricing structure, its customers revolted, posting 82,000 negative comments across its social platforms. Within months the company lost thousands of customers and two-thirds of its market value.
Interesting that back in the 1950s, we discovered the disposable society and went about convincing consumers to throw away and replace, rather than preserve and keep. Now the key theme is asking them what they think, so we can interpret that into what they want. That is what new marketing is about. We must never forget, social is 99% listening.