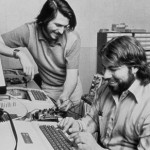 I recently finished Walter Isaacson's brilliant biography of Steve Jobs. The more it described Steve as different, the more I warmed to him, because the imperfections made him more human.
One of the early Apple board members recounted when he first met Jobs and Wozniak, sharing how he looked beyond the fact that both desperately needed a haircut. He was amazed by the ideas and the work that he saw, figuring that the two Steve's can always get a haircut!
The Apple 'Think Different' campaign really put the company on the map, raising awareness of the brand to new heights. Today, we take the genius Apple products for granted and yet we ignore the talent of people for whom the gadgets and technology are second nature. Remember the need to understand them on their terms, for they will be both our customer and our workforce of tomorrow, so market to them on their terms, and when recruiting them, please don't ask them to fax through their CV. You will be waiting for some time..