I blogged about Intel a couple of posts ago and today I will blog about another IT-industry stalwart, Hewlett Packard.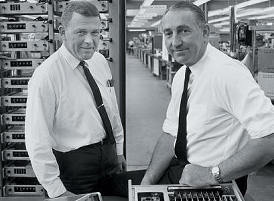 Quite simply, this is a brand that I have always liked. I have only ever bought HP printers and I like the story of the founders, William Hewlett and David Packard (take note, no shortening of names taking place here – the two gentlemen deserve full name spelling). They started HP in 1939 out of a garage in Palo Alto where the company was born.
What really stands out, however, is their reaction to the market soon after the war began. Not surprisingly, the government labs were shutting down and the engineers leaving their employment. But Hewlett and Packard saw the opportunity. Although they were going through staff layoffs themselves, they realised that the greatest opportunity their company ever had wasn't that of technology.
So instead they went out and hired those engineers.